Our Diary
Regular visits to rural Villages, Garden Centres, Pubs, Events and more.
Come and find us at a destination near you!
Here's where you can find us
---
Shopping & Tapas at The Swan Yard
We're delighted to announce that, with the kind permission of Vida Comida, The Swan Yard is now a regular monthly venue.
We first visited last month; lots of lovely ladies asked if Lady B could return and the local businesses enjoyed and benefited from new custom, once again showing how Boutique in a Bus is a Community focused business, working alongside and for everybody!
Talbot Heath School May Fayre
It's that time of year again when we support lots of Schools, charities and events by donating a percentage of our sales to help with fundraising, so come along to the Talbot Heath School May Fayre where you'll find Lady B and lots of other lovely stalls
Never a disappointment to visit! Take a stroll around Cranborne and then come to the lovely Cranborne Garden Centre, enjoy a morning coffee, a spot of lunch or afternoon tea … and shop on Lady B … perfect!
Summer Fete & Afternoon Tea
Join us at the beautiful Moreton Walled Garden for the perfect afternoon out with family & friends.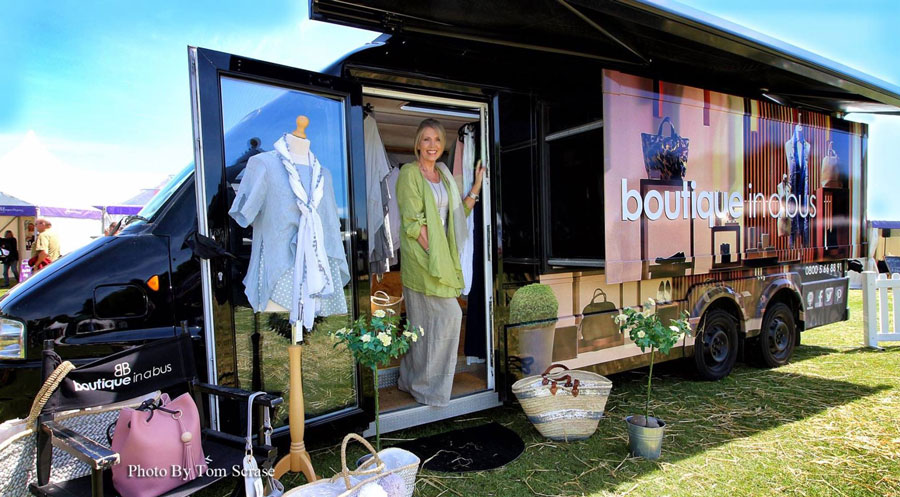 We can bring Lady B to your own private booking at your home or workplace; we park in your drive, you invite your friends and have a fun private shopping 'party' (time of your choice).
All we need is a flat surface, enough room of course to park and access to electricity. Fantastic for a get-together, charity event, fundraiser, or, how about Christmas shopping? You choose. All this convenience without disrupting your home as everything is on board Lady B!  Oh and its FREE to book!!