Our Diary
Regular visits to rural Villages, Garden Centres, Pubs, Events and more.
Come and find us at a destination near you!
Here's where you can find us
---
Wellbeing by the Lakes
Wellbeing by the Lakes is a 3-day festival exploring what it means to be mindful and live well in this fast-paced modern world. A curated blend of experts talks, art, live performance, meditation, movement sessions and healing therapies will open your eyes to fresh experiences for wellbeing.
St Mary's Shaftesbury Fun Dog Show 
Featuring Lady B and The Doggie Dash, children's activities, stalls and refreshments. Dog Show registration opens at 12.15, dog show at 12.45. There's also a Colour Run at 3pm.
Looking forward to our monthly visit to The White Horse Inn. Pop on board Lady B for some shopping, and call into the pub for morning coffee or lunch; Ali & Chris are the most welcoming hosts and always deliver the most satisfying food!
Why not enjoy a day out in Cranborne – stroll through the village, take a lovely walk, visit the fabulous gift shop and garden centre, meet up for coffee or a spot of lunch in the Garden Centre Café … with the added convenience of shopping aboard Boutique in a Bus!
Boos Booze and Boutique in a Bus!
Join us for an amazing Halloween Event Day for everyone. Lady B will be at the fabulous award-winning Langton Arms all day and into the evening, helping raise funds for Blandford Food Bank. Children's Party from 5pm-8pm.
Canford Christmas Fair
This winter we are delighted to be attending the all-new Canford Christmas Fair. Lady B will be joining a fantastic selection of Local Crafts, Gourmet Food Produce, Street Food and Drinks. We'll be parked up outside of course, but the rest of the Fair will be inside the School's buildings so it'll be great whatever the weather.
More diary entries here soon
Or sign up to our weekly Newsletter and receive the diary direct to your Inbox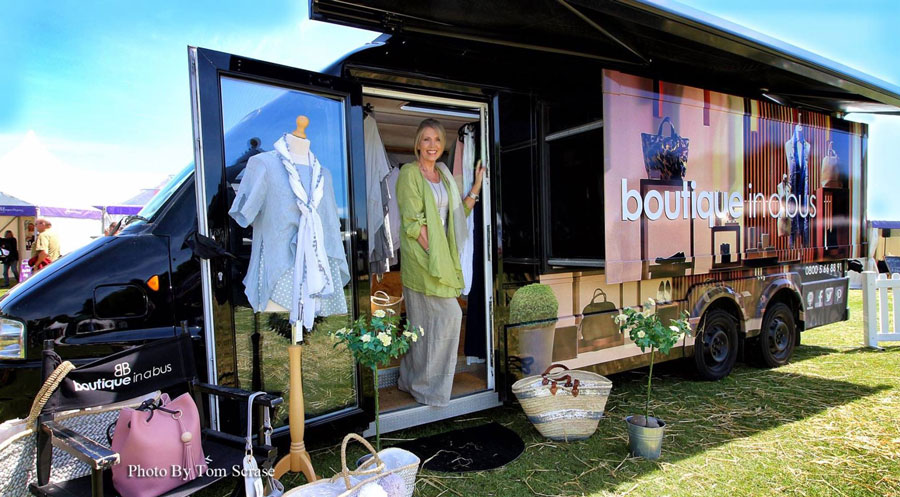 We can bring Lady B to your own private booking at your home or workplace; we park in your drive, you invite your friends and have a fun private shopping 'party' (time of your choice).
All we need is a flat surface, enough room of course to park and access to electricity. Fantastic for a get-together, charity event, fundraiser, or, how about Christmas shopping? You choose. All this convenience without disrupting your home as everything is on board Lady B!  Oh and its FREE to book!!