Our Diary
Regular visits to rural Villages, Garden Centres, Pubs, Events and more.
Come and find us at a destination near you!
Here's where you can find us
---
Last Visit before Christmas!
Come along to The White Horse Inn and pop in to Lady B – I've got some lovely gift ideas for under £30.00!!  Ali & Chris are the most welcoming hosts and always deliver the most satisfying food too! 
Last Visit before Christmas
Dorset's amazing Sculpture Park looks beautiful all year round, even in winter it never fails to please!  Warm up with a coffee and or lunch in the wonderful Gallery Cafe … enjoy food freshly prepared by Chef Duncan Mackenzie-Watts. Combine some Christmas Shopping onboard Boutique in a Bus at Sculpture by the Lakes … Perfect!
NB: The entry fee to the park does not apply if you just want to come along to shop on Boutique in a Bus or visit the wonderful Cafe. Due to Insurance criteria, no dogs allowed or children under 14  
Come Christmas shopping!
By kind permission of Shelley Barker
Join us for coffee or lunch in Marshalls on the Green Cafe, call in for a coffee, meet friends for a catch-up and shop on Lady B. Keeping it simple, keeping it local!
---
More events here soon
Or sign up to our weekly Newsletter and receive the diary direct to your Inbox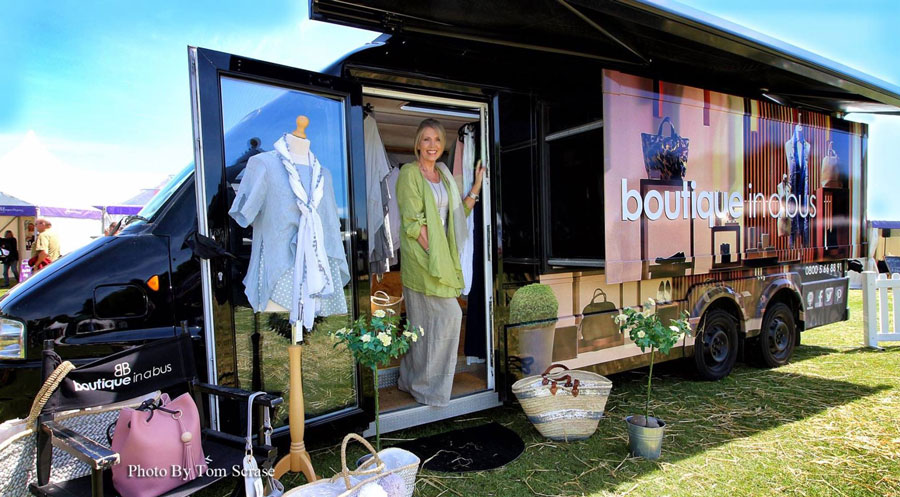 We can bring Lady B to your own private booking at your home or workplace; we park in your drive, you invite your friends and have a fun private shopping 'party' (time of your choice).
All we need is a flat surface, enough room of course to park and access to electricity. Fantastic for a get-together, charity event, fundraiser, or, how about Christmas shopping? You choose. All this convenience without disrupting your home as everything is on board Lady B!  Oh and its FREE to book!!